Something that sunk in more than ever on this trip was how deeply some readers resonate with the messages in The Holy Universe, and how much they were willing to help spread the word about the book. Sunny Chayes,  Cheryl Leutjen, and Wendy Sue Noah went out of their way to help put together a delightful trip down to the Los Angeles basin. But beyond these three gems, many of the people who attended the events seemed almost profoundly moved by what they've read.
It's no longer a question of whether this book has value or not (yes, I still wrestle with that one—I think most writers would admit to that); the question now is how to best reach those who would love to read it, who would be inspired into action by it.
June 10
A wonderful serendipity: at the same time I was driving down to LA, a friend of mine, Sheryl (who is a rabbi in Perth, Australia), happened to be traveling up from Los Angeles with her husband Donald and their children on an extended vacation in the US. I hadn't seen her for years, and a mutual friend helped us figure out where we could meet as we passed one another. We ended up rendezvousing at a fast food restaurant on the Kettleman city exit on highway five (and they went away with a book in the process, inscribed to their children, Aaliyah and Micah).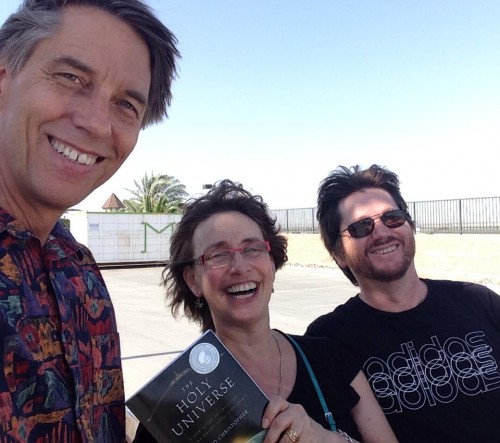 June 11
Down in Los Angeles—had two live Internet TV shows about The Holy Universe at Universal Broadcasting Network at the Sunset Gower Studios: first on "Singing in the Rain" with Sunny Chayes and her second guest, Ben Podrin, and then "On Air with Tony Sweet," with his co-host Carla Renata. If you'd like to hear the recording of the shows, click on their links and scroll down to the "Now Listening" link.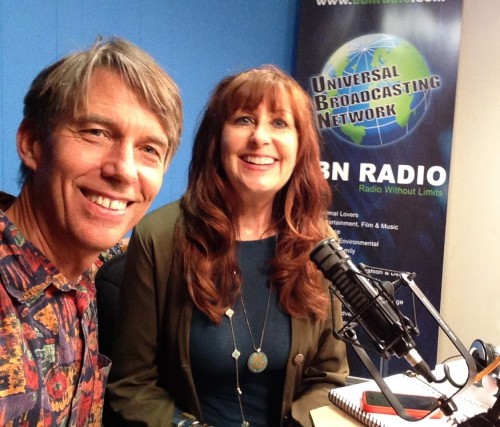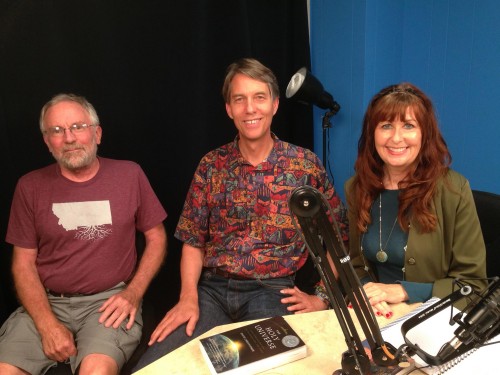 It's something to be driving past many of the names associated with entertainment and media you've heard about all your life . . . I wonder if the allure I felt was all in my mind or something that really is in the air.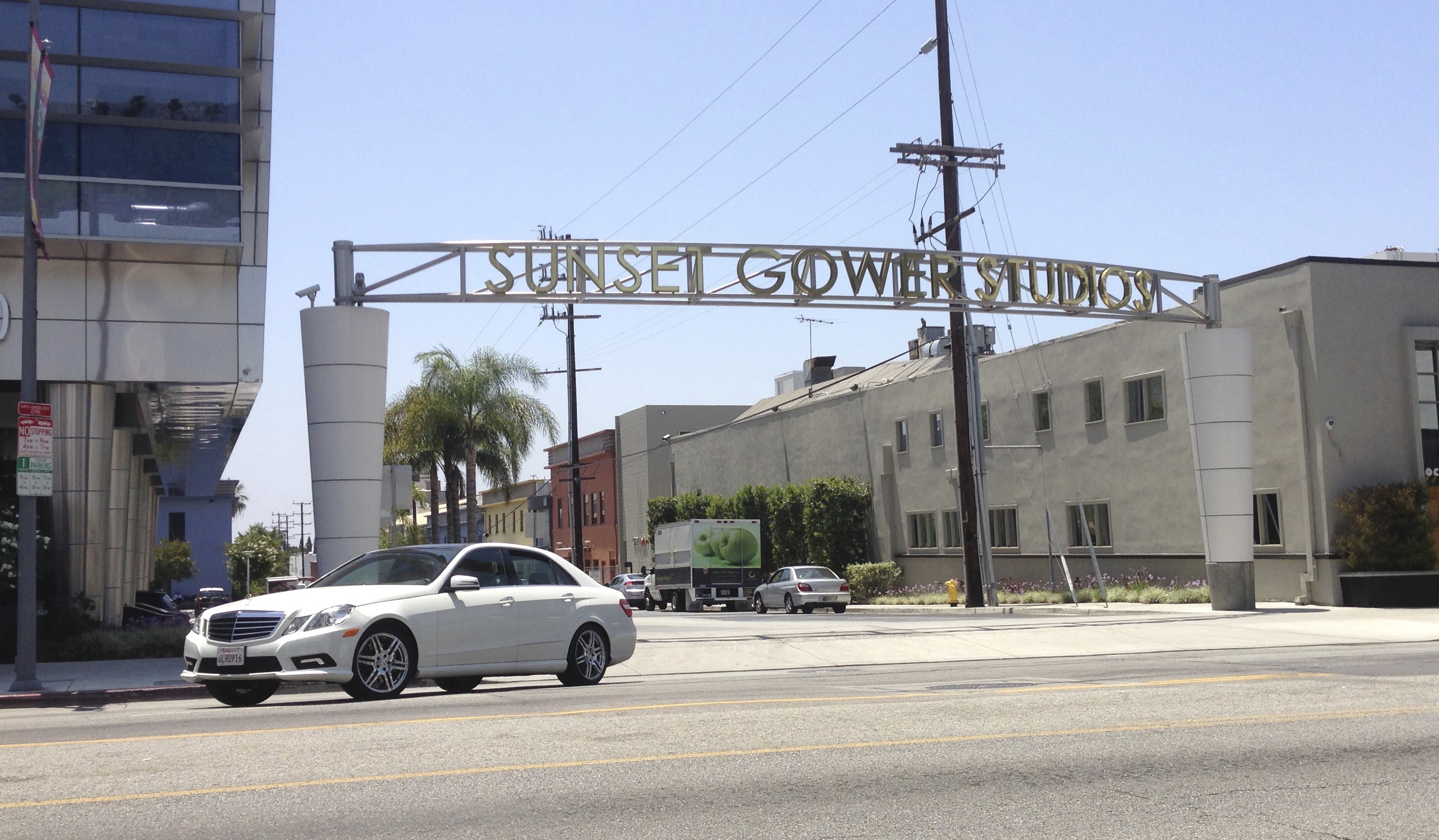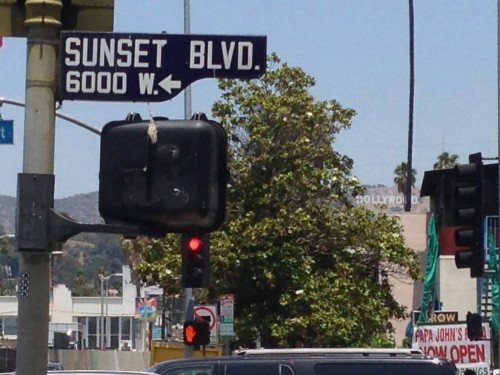 Afterward I went to Eagle Rock to the north at a "Drinks, Dessert and Conversation with the Author" living room reading hosted by Cheryl Leutjen, who first heard me speak over a year ago, and who, along with Wendy Sue Noah, have been conspiring to get me down to LA ever since.
The group took issue with one of my PR professionals who once said "Don't go to LA . . . they're not the 'spiritual but not religious' activist types who would be interested in your book." Wrong. I was surprised, taken aback, and pleased at how passionate some of the members of the group are about the book, and helps me to realize just how open they are to its message.
June 12
This morning Cheryl Leutjen (http://motherearthpriestess.com/awakening) had me as a guest at her monthly "Love Earth" circle, which was held outdoors at Arlington Garden in South Pasadena. The Garden was once slated to be a freeway, lay fallow for years because of litigation against the freeway, and has now become a wonderful place cared for by volunteers. The water in the fountains has been replaced by succulents—much more appropriate to the desert climate of LA. Check out what they did with all the extra water wands.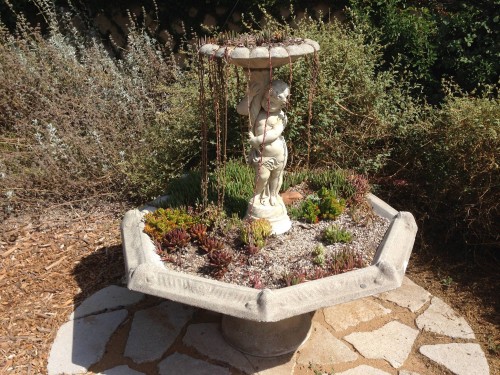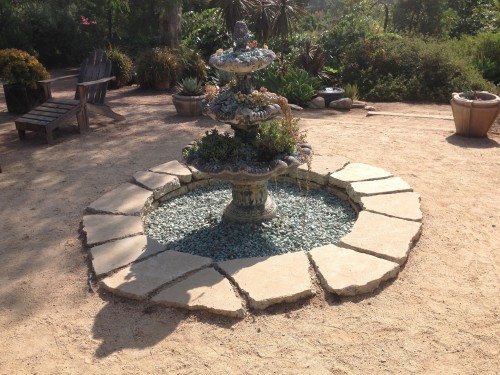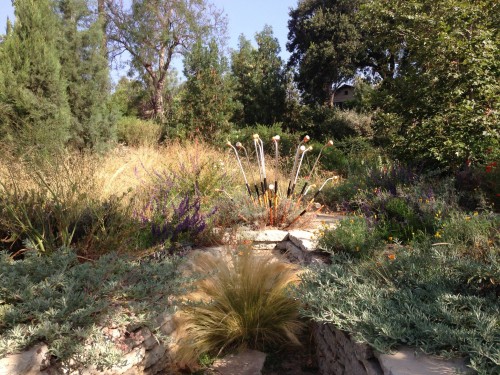 My good friend Wendy Sue Noah (http://www.wendysuenoah.com) organized a living room reading in Torrance Thursday evening with the South Bay Agape church group (I must be forgiven for not remembering the name of the host, who so graciously opened her home to the group). Bonnie opened the gathering up, and then Wendy Sue gave an introduction to me. Another very lively discussion, in part centering on the issue of social justice and race and gender issues.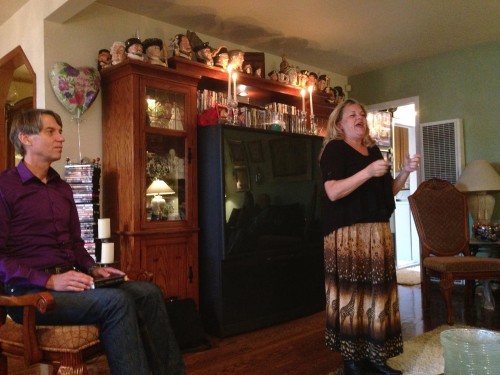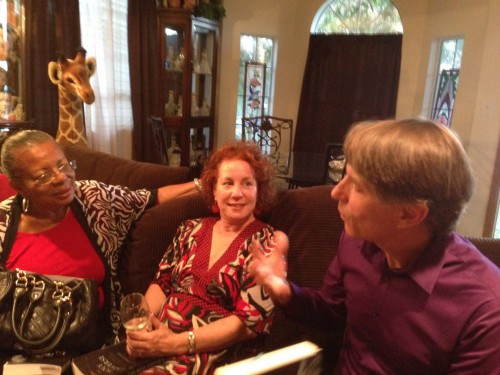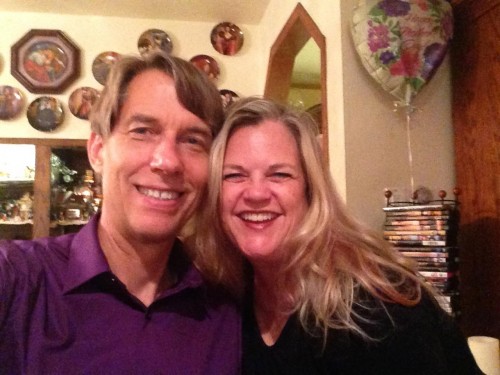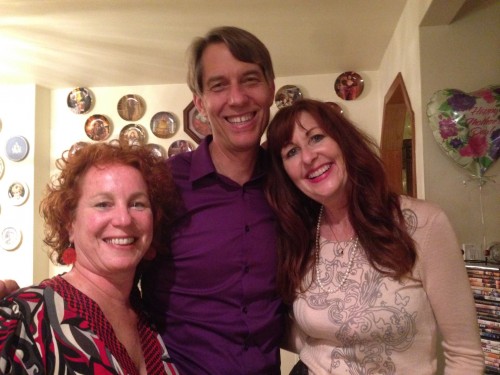 June 13
Another excellent 24 hours in LA.
I took a few hours to do a little body surfing at Venice beach before the evening's reading and discussion group at Mystic Journey bookstore in Venice, CA. Sunny Chayes, the woman on fire (and who had me on her radio show on Wednesday), organized this one, and took charge in arranging an already magnificent space (placing me in front of a likeness of the Buddha).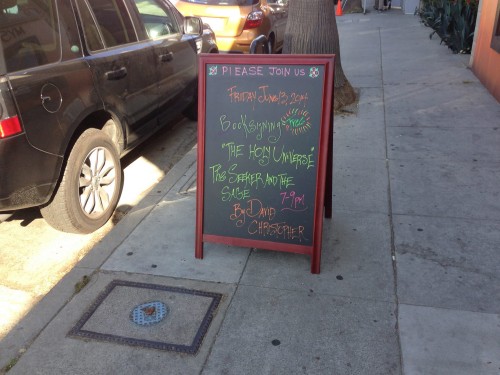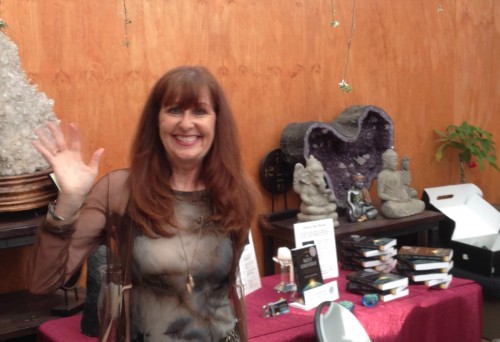 I normally just read myself, but Sunny joined me on stage, and we took turns reading the parts of Seeker and Sage (and she also helped lead the discussion).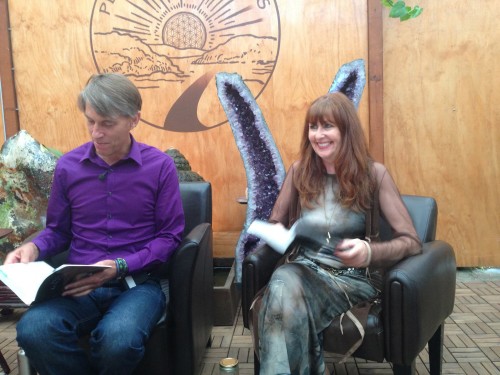 I always start discussions early: I pair people off after about 10 minutes of reading and commenting, and ask them questions about what they've head and read. What's so great is to watch the audience's personality emerge out of a collection of folks who often don't know one another. A wonderful shift happens where the group tends to gel and participants become more at ease, and often willing to share the pains and lessons they've learned on their own paths.
June 14
Before heading home, Cheryl Leutjen and her husband David took me out to breakfast in Eagle Rock . . . and we traveled in David's convertible with the top down, just to have the full LA experience. ∞