While in Boston, New York, and Cape Cod the last two weeks, I wrote about my encounters and events on Facebook. This way of writing was a stretch for me (using a tiny phone screens, plus I have hesitations about Facebook itself), but something about it was indeed satisfying. Here's a recap with a selection of photos.
March 7
Arrived in Boston a couple of days ago – had fun speaking to a lively crowd at the Harvard Coop (Harvard Cooperative Society) in Harvard Square.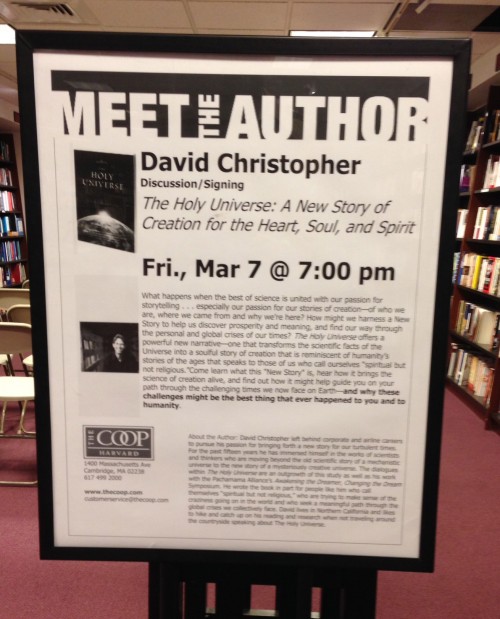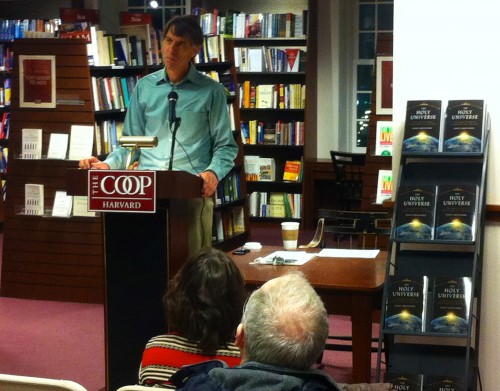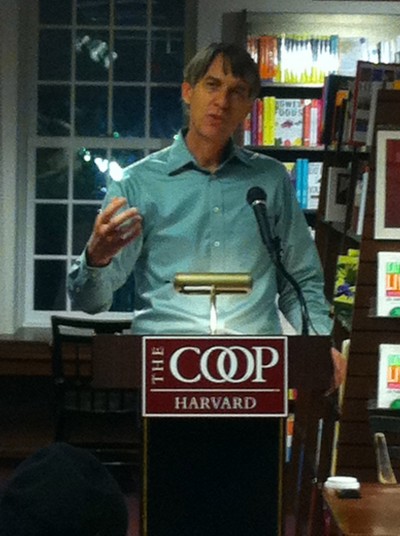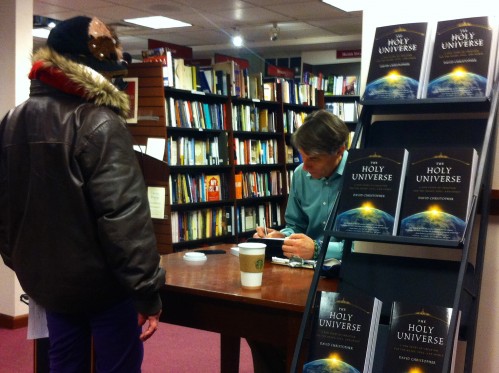 March 8 & 9
I arrived in Reading, MA to find this on the front page of the local paper.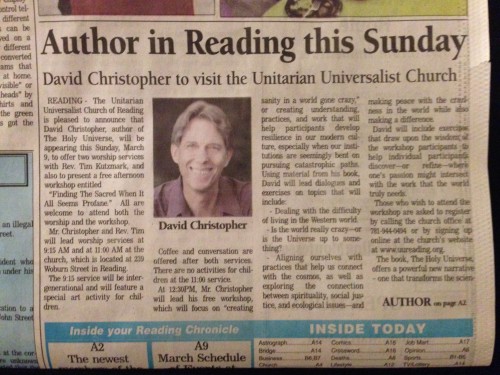 I spoke to the two morning services at the Unitarian Universalist Church of Reading in Reading, MA (just north of Boston). The weather was not as cold as it has been, and the sky was bright blue, which had been a long time coming to the east coast. Very well received; about 20 people of the 150 or so congregants stayed for my afternoon workshop on "Finding the Sacred When it All Seems Profane." The services I spoke to were well received (their bookseller ran out of books—I take that as a good sign!). .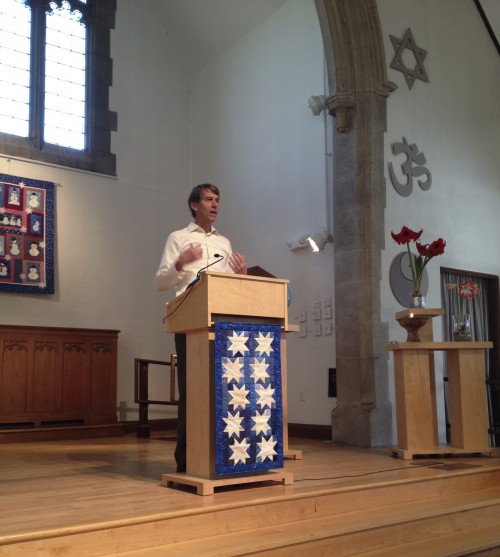 March 11
Had a video shoot today at the META Center in Manhattan on A Better World TV. I'm here with the host, Mitchell Jay Rabin, who then led "An Evening of Storytelling, Interview and Conversation with David Christopher and Mitchell Rabin." Details soon on when the show will go online.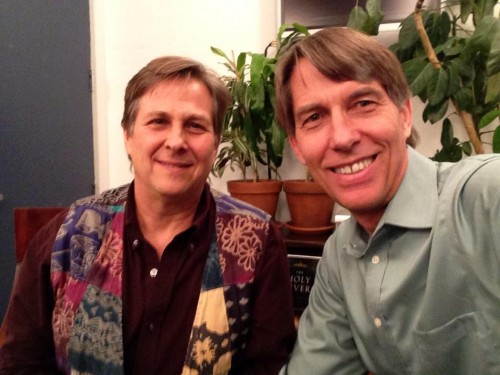 March 12
A Day Off in New York: My friend Janine from Brooklyn (who is shy, hence the cropped photo) took me to see a few sights: the old elevated train tracks on the southwest side that were turned into a beautiful park; the Ansonia on the West side (where a favorite character from Tom Robbins' "Skinny Legs and All" lived); and me with FDR in front of the Natural History museum.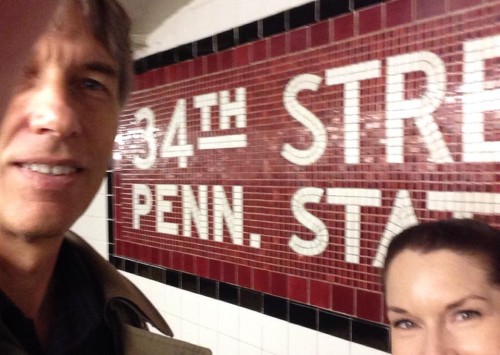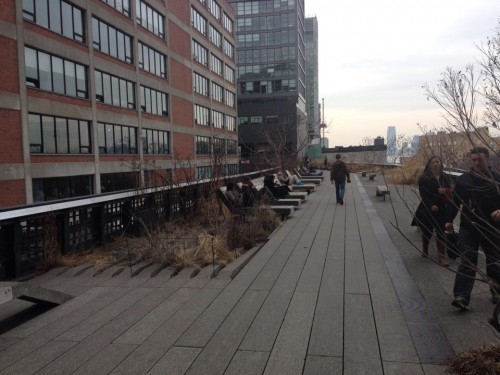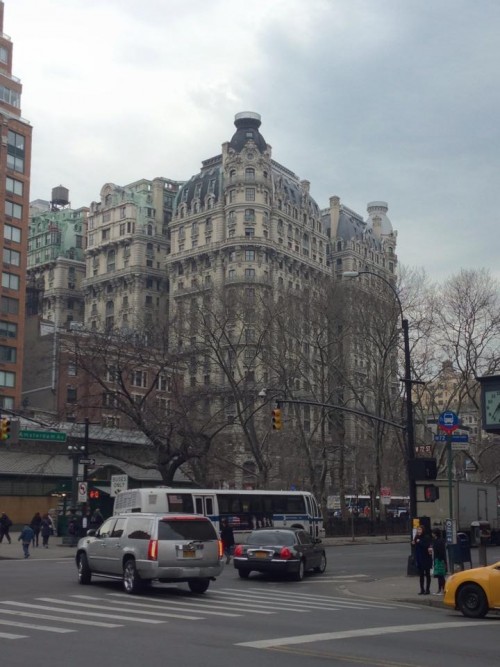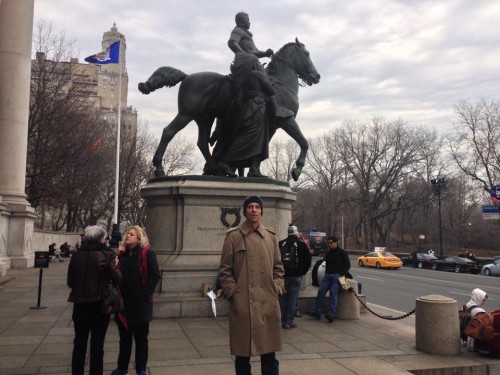 March 13
Back up to Boston, and then up to Andover, MA. It was 18 degrees when I got off the train and walked about 3/4 of a mile to the Andover Bookstore, where they had a nice fire and hot chocolate for me during my reading. Wonderful bookstore—been around since 1806, the year Lincoln was born.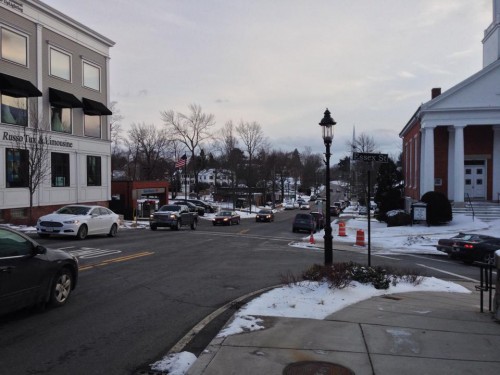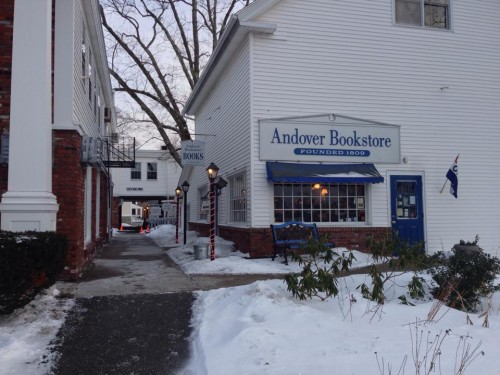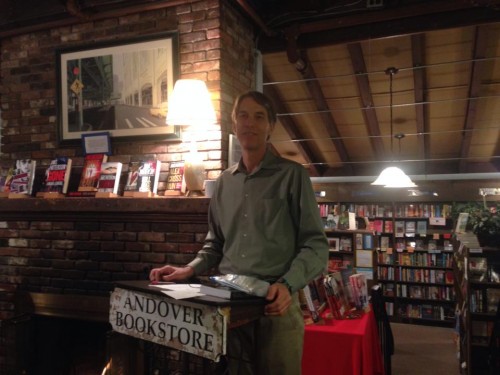 A couple of the participants were a woman and her teenage daughter who happened to stop in by chance; both of them were very intrigued by the social justice discussion that always comes up during the Q&A sessions—it's heartening to see the next generation taking an interest in the issues we collectively face, and to see their parents supporting them.
I got a ride to the train afterwards—don't know what the temp was, but the five minutes I spent waiting on the platform outside (no indoor waiting area) was a *long* five minutes.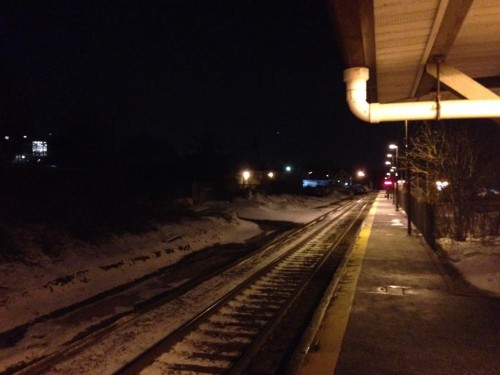 March 14
It hovered around 20 degrees yesterday in Boston when I went to visit the Unitarian Universalist Association Bookstore Director (who *may* list my book in their catalog—we'll see). The UUA is in a gorgeous building to the left of the gold-domed state house for the Commonwealth of Massachusetts (I'm beginning to learn how to spell this state correctly).

I then decided to take a bit of a stroll. Ahem. It's still cold. 20 degrees in the sun is still 20 degrees. How we made it without fossil fuels to keep ourselves warm is astonishing to me. Interrupted the tour to warm up with some lobster bisque (recommended by my host). Hung out until I could feel my hands again.
Then carried on, going by Faneuil Hall, Paul Revere, and his house (I didn't get pictures of the greenway—very nice, a huge improvement over having an elevated freeway which has now been buried underneath downtown).
March 15
Last night I had another reading and lively discussion in the living room of the Cornerstone Village Cohousing community—once again, I sold all the books I brought (I'm liking this trend).
Then this morning I found out what a difference a day makes. I stepped out and found nearly all the snow was gone. The playing field nearby, which was covered in snow two days ago, was clear and green, with students playing soccer & lacrosse & flag football.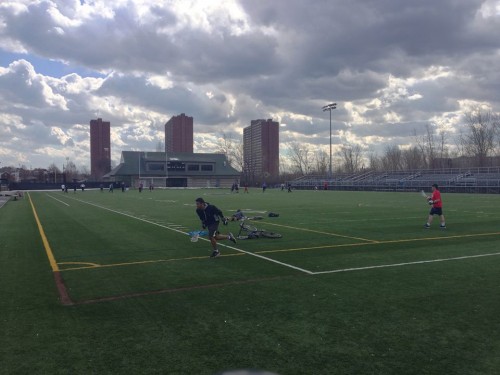 When I emerged from the train station at Harvard Square, people were rioting in the street, the weather had become so gorgeous. Sunny and warm (compared to subzero just yesterday). I did the Cambridge walking tour through Harvard Yard, past the white-steepled memorial church (the main advantage of touring here in the winter is that you can see through the branches of the trees across to buildings), then to the gorgeous Memorial Hall (you have to hand it to the Christians centuries past—they knew how to do churches and stained glass).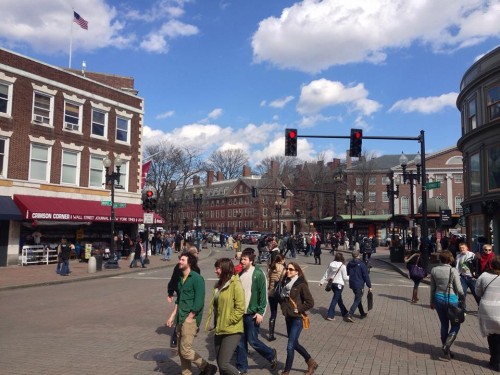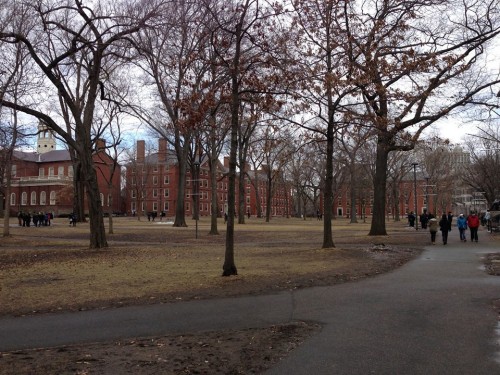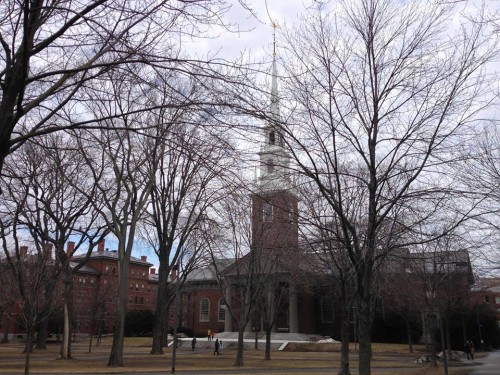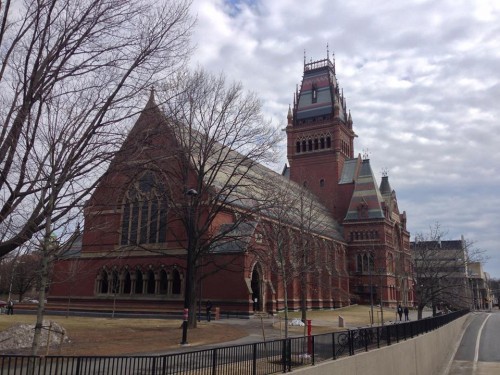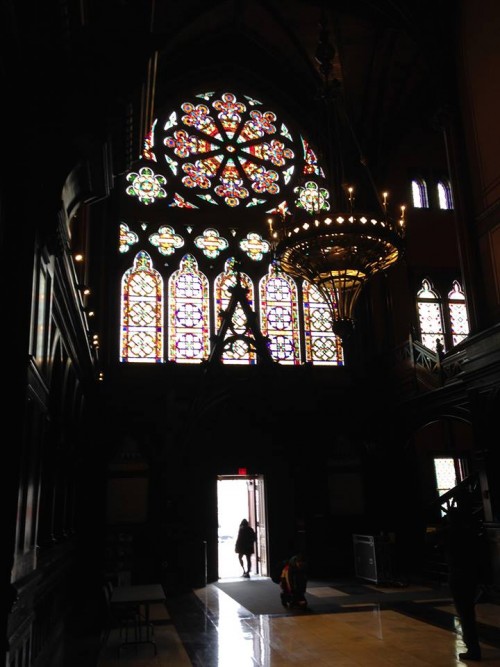 I walked out to Andover Hall, part of the Harvard Divinity School with fantasies of being invited to speak (a man can dream, can't he?), then back out to Harvard Square, where fans of Car Talk will enjoy the lettering on the window on the third floor above the entrance to the Curious George store.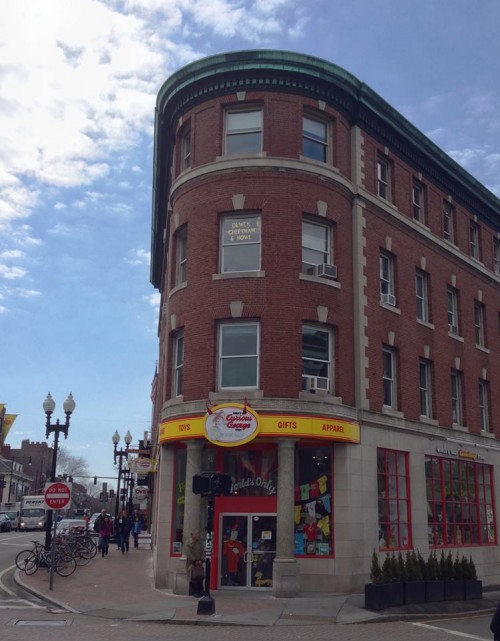 Then I had to get serious and finish off my notes for tomorrow's events. I hung out in Tealux (where an acquaintance of mine took me after my reading at the Harvard Coop a week ago): tiny and funky—a good place to get work done. (A sign in their window announces they have seven kinds of chai. Too many choices. Couldn't decide. Had Lipton.)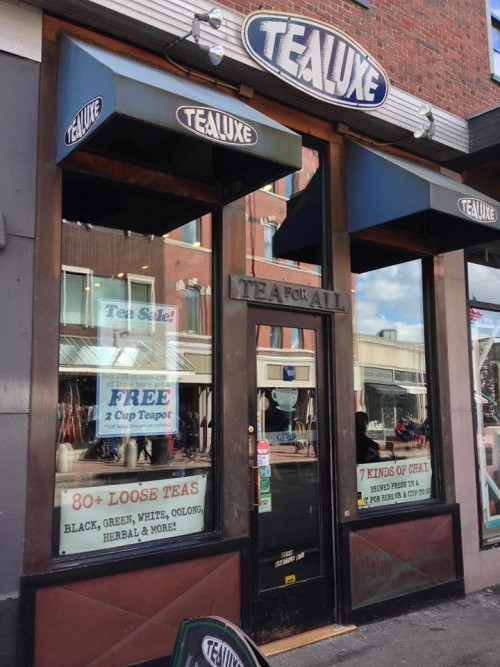 Then I got on the bus to Hyannis; the countryside on the ride down to the cape is beautiful.
March 15 & 16
Saturday I arrived at Hyannis by bus (riddle me this: 4 hour ride from Boston to NYC costs $18; 2 hour ride from Boston to Hyannis, $20. 1 hour ride from SFO to home, $36. Go figure).
My host, Martha, picked me up and immediately took me to see some of the gorgeous sights: harbors, beaches, and marshes. She's completely in love with wildlife, especially birds (more on that in the next post).
Here I am with her million-dollar view from the back porch at sunset.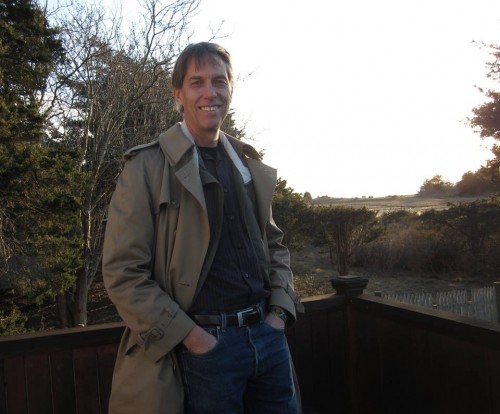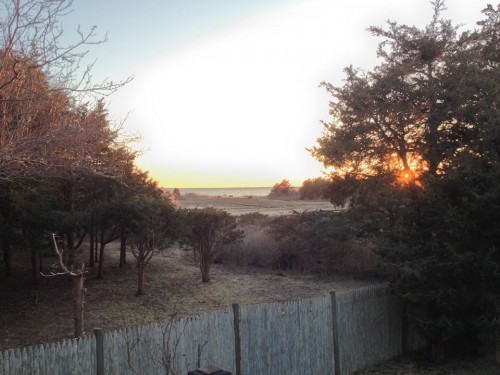 I was Sunday's guest speaker at Unity on Cape Cod ("Catastrophe to Creativity: Lessons from The Holy Universe"), in front of a very appreciative and enjoyable audience. A smaller group then met for the afternoon workshop, "Sacred Storytelling: Using Our Stories to Help Us Navigate through the Great Transformation."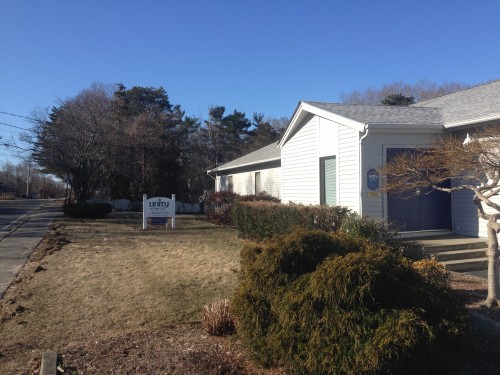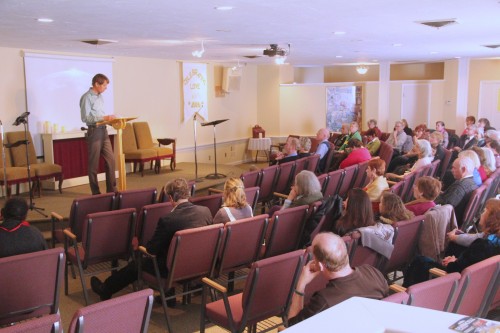 Martha was kind enough to organize a potluck that evening in my honor, as well as a breakfast gathering the following day.
March 16 & 17
Had some time after the service, and then a day off in Cape Cod before heading back up to Boston. Martha, my host, loves to show people around the Cape, so we went exploring some of her favorite outdoor and birding places.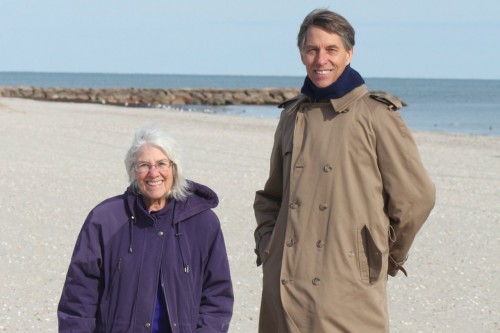 Even though it was cold on Monday (27 degrees and blowing wind—the most time we spent outside was about 10 minutes), the Cape is still beautiful, and there are still birders out and about.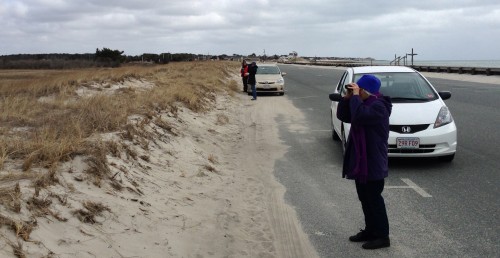 In this picture, you can barely make out the puff of white that is a snowy owl in the grass & dunes; it's just above a cattail-like grass stalk, about a quarter of the way up from the center.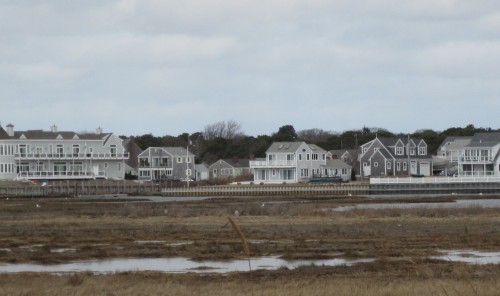 Here are some close-ups of this beautiful snowy owl.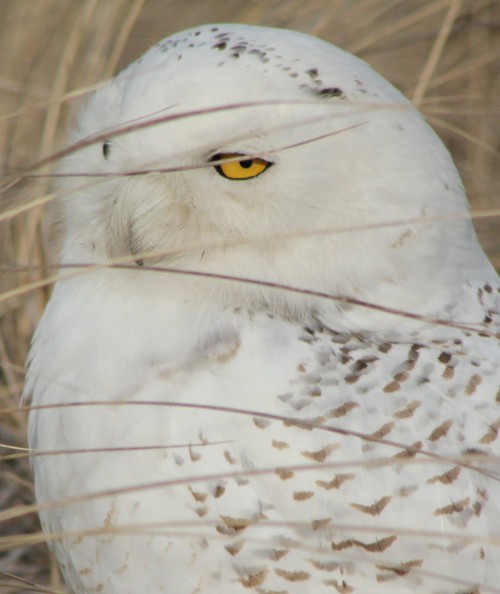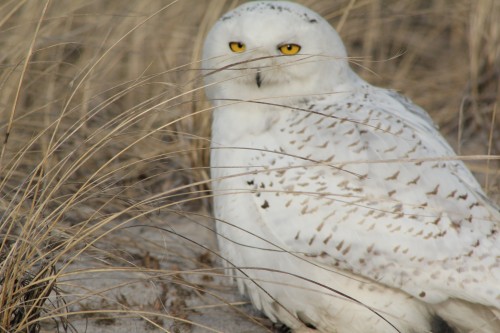 Martha has an affinity for birds and they spend a lot of time with her. Last fall this young hawk landed on her porch and stayed for quite awhile, letting Martha watch her and take her picture. I absolutely love this shot; what an amazing creature.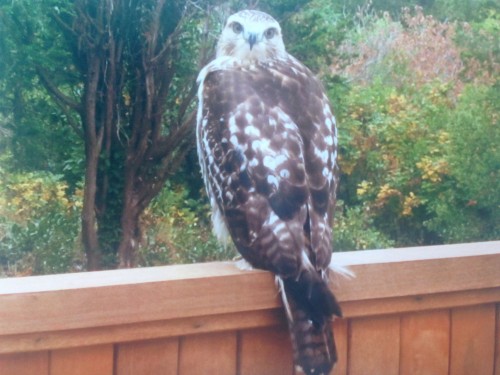 • • •
I'm impressed and optimistic as I hear about peoples' work in the world (e.g. Martha does a lot of work around protecting bird and wildlife species, and I met Paul, who is working to close down a nuclear power plant near Plymouth—scary storage of rods, right on the coast; sound familiar?). I'm also appreciative of the generosity and hospitality that people have shown me on this trip (Tim and Fran in Reading, MA, Carol and Suzanna in Cambridge, Mitchell & Sharmilla in NY, Janine in Brooklyn, and Martha in Cape Cod). I'm blessed that so many people are willing to help make these events happen, and that I get to spread and share the message of Planetary Mind.
• • •
For Your Delight:
Another Beautiful Video
Dylan Winter and the Starling "Murmurations"
While I've often looked down on starlings as an invasive species in the United States (ignoring the thought that Modern Mind, of which I'm part, might also be considered "invasive"), I had no idea how beautiful they are as they gather into enormous, spectacular flocks (called "murmurations") in the evenings in their native lands.
Wildlife filmmaker Dylan Winter captures their beauty as the murmurations form and flow from one amazing shape to another. If your bandwidth can handle it, make sure you click on the little "gear" icon on the lower right and select a higher quality for playback (720p is best).
I'd love to hear what you think; please visit the "comments" page of my website and let me know your responses to this video.
.
.