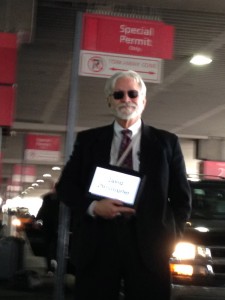 I'm just back from Boulder, Colorado doing a video shoot at Gaiam TV (isn't this driver that they sent to pick me up the spitting image of the Jeff Bridges' "The Dude" character in The Big Lebowski?), and visiting a number of "activists who have a spiritual bent." (If anyone has a good name for these folks, please let me know!)
The video shoot at Gaiam was Regina Meredith's Open Minds show. Her guests include leaders, researchers and authors at the intersections of science, spirituality and activism like Joan Borysenko, John Perkins, Larry Dossey, MD and Chris Saâde,  so I'm quite honored (and even a bit taken aback, to be honest) to have been invited on her show. I had a lot of fun talking back and forth with Regina—and at one point she sprung the idea of having me tell some of the Universe Story, reciting it from memory, no less. Fortunately I'd read the piece enough times that I was able to recite with only one or two hesitations. And after the shooting, she and the director talked about including some images from the NASA space telescopes, brainstorming ideas on how to enhance the recitation of "The Beginning of All Beginnings." I was honored (as cheesy as I sound saying that) that they thought so highly of the book to move beyond a "talking heads" show.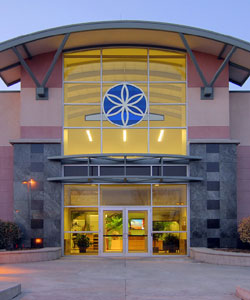 They'll have the show produced in about a month; I'll send out a notice when the episode becomes available.
I was also fortunate that an acquaintance of mine from the University of Colorado Environmental Center worked hard to pull together a program for me at the local United Church of Christ, entitled "An Evening of Storytelling from The Holy Universe." We had an excellent (and at times challenging—in a good way) audience that took us way overtime, we were all so involved in the readings, ideas, and discussions we had about the New Story.
I also had good meetings with local folks from Unitarian Universalist and Unity churches, Big History folks, local Pachamama Alliance leaders, and cohousing folks; I was happy to connect people who hadn't met one another yet (though that was rare—the circles of connections here seem quite tight).
It was novel for me to be invited on to a show wherein they flew me out (using my more expensive small town airport), having a driver meet me (never had *that* experience before), and being put up at the Hotel Boulderado—many of the locals raised their eyebrows upon hearing about that; it is indeed a rather posh place.
Part of me, of course, feels leery about rationalizing the carbon burned traveling around the countryside talking, in part, about the huge issue of burning carbon. (We bantered about this topic during one of our lunch meetings—I'm certainly not the only one who's facing this issue.) I do my best to make the most of my travels, making sure that I at least try to do as many presentations and have as many gatherings as possible. If anyone has other thoughts on the conundrum of high-carbon travel, please tell them to me; I'd be glad to hear them.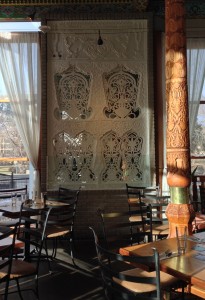 A side note: if you do happen to find yourself in Boulder, the Dushanbe Teahouse is an amazing (and surprisingly affordable) place to have meetings over a meal. Gorgeous artwork and carvings (see right), excellent food and tea. Worth more than one visit.
My next trip will be out to Boston and New York—see my upcoming events page for details.

For Your Delight:
Another Beautiful Video
Shots of Awe: Why You Gotta Reconfigure Your Mind to Experience the Most Meaningful Moments in Life
I love this video by a young man named Jason Silva—a wonderful reminder of the amazing Universe we live in!