About The Holy Universe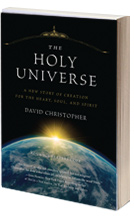 I've written a book that translates the cold scientific facts of the Universe into a soulful story of creation that is reminiscent of the style of story I grew up with that honors and explores the mysteries of the Universe—but also confronts the challenges humanity faces.
The Holy Universe came to me as a fictional dialogue between a Seeker and his Sage, as they go through the unfolding of the Universe—from the Beginning of All Beginnings, to the creation of Earth and the emergence of human beings, all the way to our present-day crises, spurring humanity toward what the Sage calls the "Great Transformation"—the enormous global changes we are now facing as a species.
The dialogues explore:
How this new story integrates and transcends the old disconnected and lifeless narrative of science, and reconnects us with the cosmos and all of creation,
How this story can help us transform the ecological, social and spiritual challenges we are currently facing,
How the seeker finds his path in the midst of the turbulence of our times,
Why these crises might be the best thing that ever happened to humanity.
In writing the book, I relied on the works of such luminaries as Thomas Berry, James Lovelock, Sister Miriam MacGillis, Elisabet Sahtouris, Brian Swimme, and Mary Evelyn Tucker, as well as those in the discipline of "Big History" such as Nancy Ellen Abrams, Cynthia Stokes Brown, Eric Chaisson, David Christian, and Fred Spier.
The Holy Universe tells the story of humanity in a way that brings deeper understanding to why and how our Modern Mind is driving us to do so much damage to the planet. It explores how a new world view, or a new "Mind," is emerging—and how it can help us through this Great Transformation.